Senator Dick Durbin is trying to trick immigrants into believing that he is not anti-immigrant. However, now everyone knows that Senator Durbin is not at all sincere about the parody bill he is using to attack the Fairness Bill.
You have likely seen the despicable act of Senator Durbin lying on the Senate floor last Thursday. He was looking at the immigrants in the Senate Gallery the whole time and his speech was designed to trick immigrants into believing that he is not anti-immigrant.
Senator Durbin is disingenuous; he promises to provide a mansion in the Hamptons 10 years from now while people are dying of hunger today. And while immigrants die in the backlog leaving behind widows; and children age-out forcing them to self-deport and be separated from their families, the truth is this – Senator Dick Durbin is the only reason for those outcomes. He has deliberately blocked the Fairness Bill on the pretext that 'perfect is the enemy of the exceptional'. If he truly cared about the Relief Act then he could pass his bill after the Fairness bill. But he is not sincere about passing any relief for immigrants in the backlog. He is merely weaponizing the Relief Act to stall and kill the Fairness bill.
Misinformation by Durbin Staff:
We know that his staff is not telling him the truth. For example, until Senator Lee brought up on the Senate floor, Senator Durbin did not even know that he was an original Cosponsor of the same bill in the past. Senator Durbin's staff is keeping him in the dark about the facts of the Fairness bill. One can make out from his Senate floor speech that he is clearly misinformed. But, like all men in power, Senator Durbin will need to take responsibility for his actions, he cannot make the excuse that he was "advised" or "told by others (his staff) to do this", or that "virtue was not convenient at the time." Posterity will never forgive Senator Durbin for the racial overtones of his carefully choreographed actions against Indian immigrants who are experiencing severe family separation and innumerable quality of life issues because of Senator Durbin.
Senator Mark Warner:
Even his own colleague, the Honorable Senior Senator from Virginia, Senator Mark Warner could not remain silent at the wicked display of senseless attacks on Indian immigrants. Senator Mark Warner told Senator Dick Durbin on the Senate floor – "… while no piece of legislation is perfect, I think the direction that Senator Lee put forward is one that I carefully considered before I cosponsored the legislation". All reasonable people, including Senator Warner, understand that the only way to pass any relief for the immigrants in the backlog is to pass the bill through Unanimous Consent (UC) in the Senate. And the only reason why Senator Durbin is blocking the UC is that he does not want any relief for immigrants in the backlog.
As more reasonable people find out that Senator Dick Durbin has been attacking Indian immigrants over the years, they are speaking-up and asking him to stop his racial overtones. With this aim in mind, we are launching a campaign to tell more people the truth about Dick Durbin's anti-Indian immigrant position during his time in the Senate.
Today, we placed a half-page ad in the Chicago Tribune to express our disappointment in Senator Durbin's decision to block the Fairness for High Skilled Immigrants from passing in the Senate.
The bill, which he has previously cosponsored, could have passed on Thursday and would have ended the needless suffering of children like Manhitha, Uma Shreya, and Ankitnoor. The lives of these promising students will be ruined by Senator Durbin's blockage of the Fairness bill even though neither they nor their parents broke any immigration laws and have been contributing to the communities, paying taxes, and helping their neighbors. All this bill does is to treat every person equally in the employment green card system regardless of their country of birth.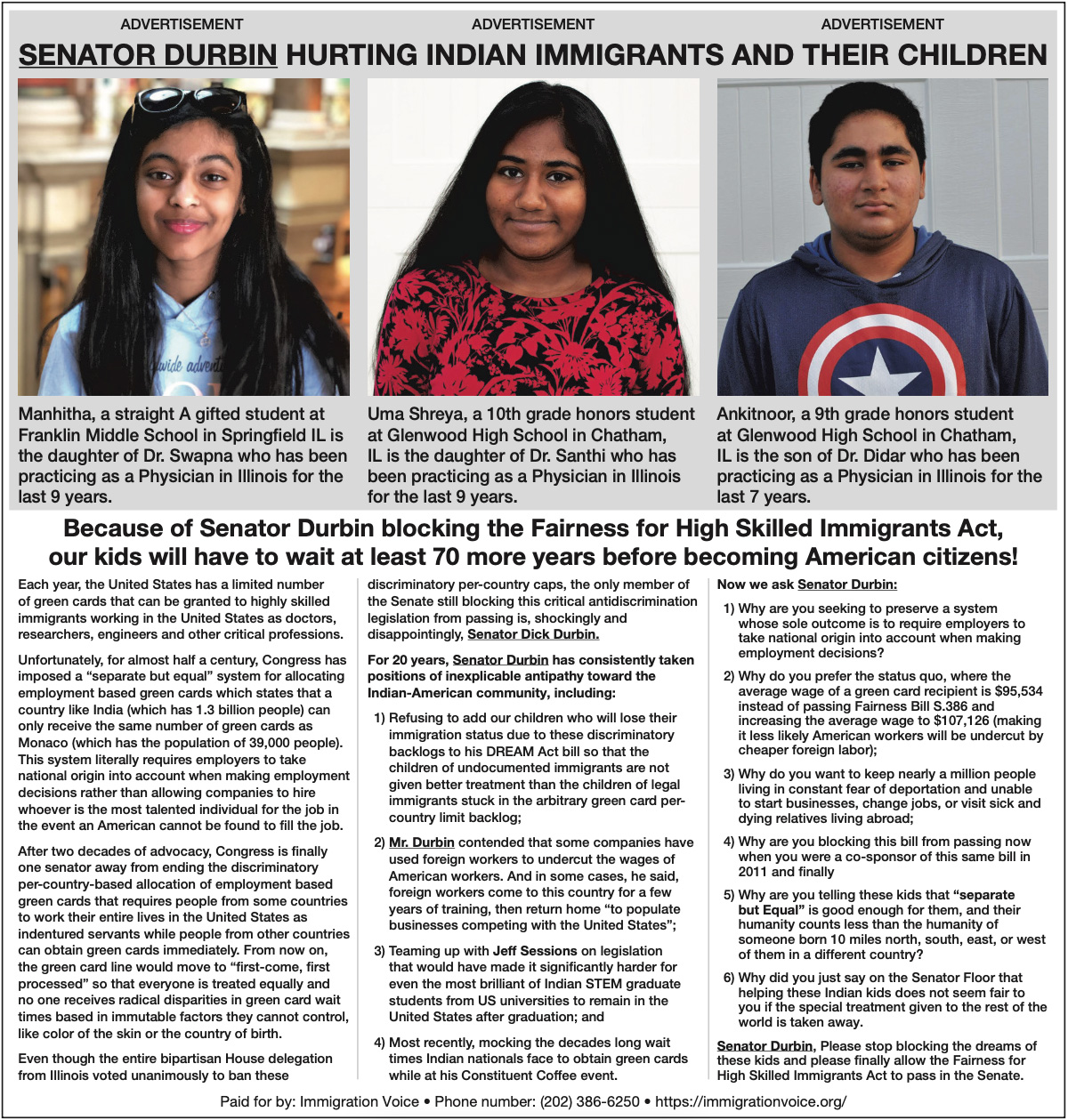 Again, to reiterate, Employment-Based green cards are given to individuals based on employment offers (where national origin cannot even be considered because of title VII of the Civil Rights Act), not to countries. Every time Senator Durbin claims that this bill helps only Indians, he is
Pitting communities against each other which is the opposite of what this bill does
Forcing employers to discriminate on national origin when hiring people for their jobs – which is a violation of the Civil Rights Act.
Going against the Declaration of Independence doctrine of "All men (and women) are created equal"
Facts:
Senator Durbin falsely claimed that this is a "Republican" bill. In reality, this bill was written by the Democratic Immigration Chairwoman Zoe Lofgren and passed with 224 Democratic votes in the House, including the entire Illinois House Delegation. The companion bill in the Senate has 15 Democratic Cosponsors.
Though Senator Durbin gets furious and red-faced whenever anyone tries to add our kids, who are in danger of losing their legal status once they age out in the backlog, to his Dream act so that they too have legal protection once they age out—he has no trouble or shame sabotaging this bill because he resents the people who it will help, which includes children like Manhitha, Uma Shreya, and Ankitnoor.
Durbin widows, Durbin orphans, and Durbin deportee:
Senator Durbin needs to understand that every day a "Durbin widow", "Durbin orphan" and "Durbin deportee" will be created, all because he and only he, blocked the passage of this bill. Despite that, we will continue advocating for equal rights with everything we have, while being reminded every day of what he did to the backlogged community.
Fundraiser:
To speak the truth and to create awareness about Senator Dick Durbin, we plan to hit the airwaves and get more people educated about Durbin's arrogance against constituents and his anti-immigrant positions. Therefore, for the purpose of this campaign, we need your help to help the effort with the fundraiser. We are at a considerable financial disadvantage to our opponents. Please help us ameliorate this disadvantage by contributing generously to this fundraiser and asking your friends to do the same. Please also consider starting a recurring contribution at a level you are comfortable with to help us scale up with the help we need in a sustainable manner.
We would not have gotten this far without your active participation and financial support. Please don't stop at the last round of this marathon.
Please help to get this done!
Thank you,
Immigration Voice