Founded in 2005, Immigration Voice is a national grassroots non-profit organization representing the rights and interests of over 1.2 million tax-paying law-abiding high-skilled immigrants contributing to the US economy.
Our Mission and Objectives
We, Immigration Voice, believe high-skilled legal immigrants strengthen the United States' economy and help advance America's intellectual capital. However, being untethered from their employers is a necessary prerequisite. Hence, it is our mission to:

Organize grassroots efforts to resolve problems plaguing the employment-based immigration system
Help immigrants know their rights and control their destiny on the path to lawful permanent residency.
Protect immigrants and American workers alike, so bad employers cannot use immigrants with fewer rights to replace American workers
Immigration Reform: Building A Better Way
Bipartisan immigration reform:
Americans are better off when everyone is given the opportunity to succeed and allowed to contribute. Yet our broken immigration system holds us back by preventing millions of people from realizing their full potential. We need a system that upholds our country's best values and actually works.
OUR GOALS
Organize grassroots efforts and resources to reform the employment-based Green Card process, specifically eliminate discrimination based on country of birth

Help immigrants control their own destiny on the path to getting a Green Card

Prevent immigrants from being treated as indentured servants so bad employers cannot use immigrants with fewer rights to replace American workers

Advocate changes to the immigration system so immigrants can live up to their full potential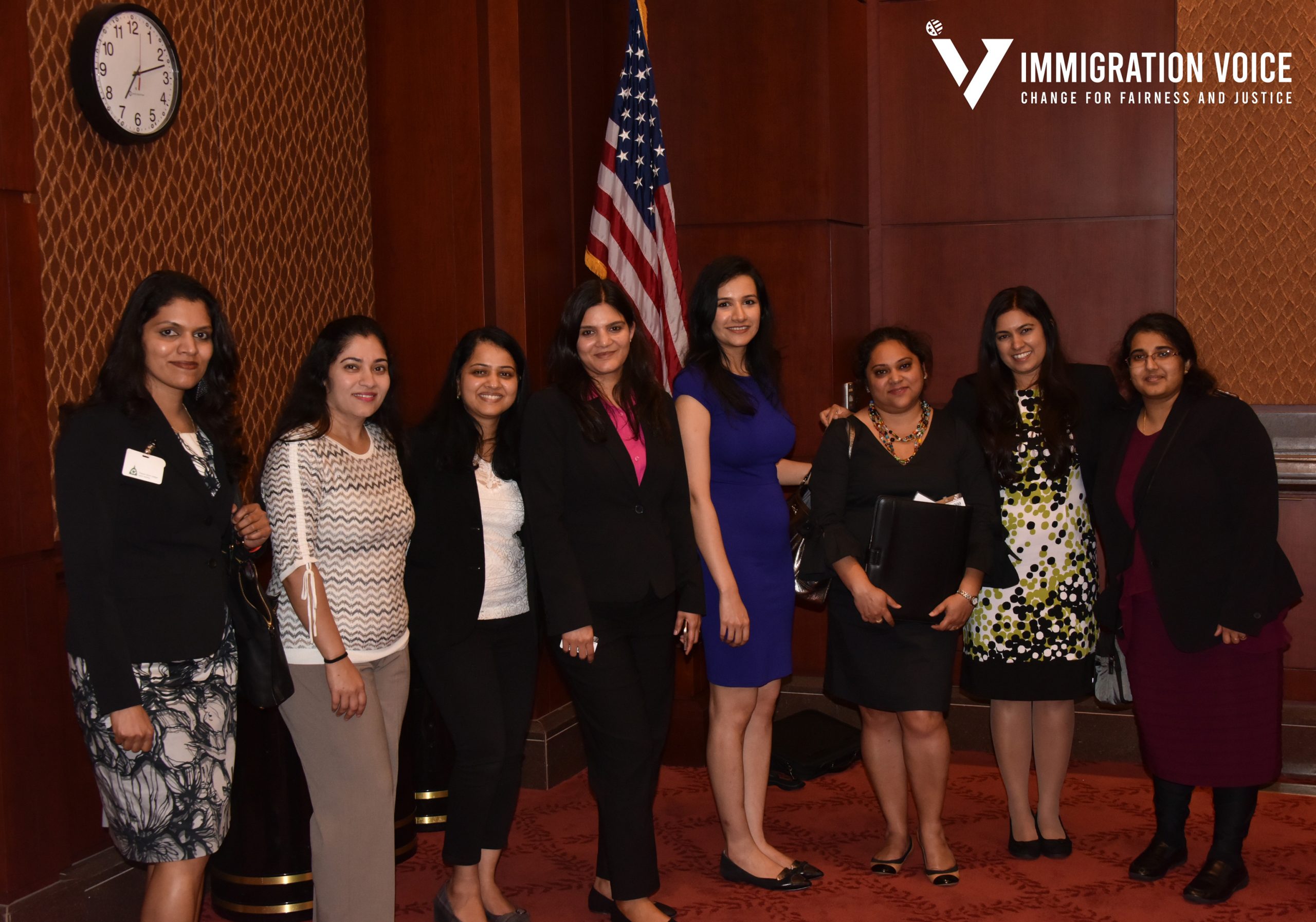 Where We Stand on Immigration
We believe immigrants must have certain basic rights so they can pursue happiness, without interfering with the working conditions of other U.S. workers. We never have, and never will, advocate to bring more immigrants from outside of the United States under the current flawed system.
Immigration Voice is a "Pro-Immigrant" organization.
Our goal is to ensure immigrants are treated fairly and have basic rights, so they cannot be exploited by employers, lawyers, and other institutions. This also helps to prevent depression of wages or the displacement of US workers.
The whole system is stacked against the immigrant employees and the US workers.
For the best interest of America and Americans, Immigration Voice's position is that immigrants ought to be treated fairly and equally. In the absence of rights, immigrant workers become more attractive over US workers to employers.
We advocate for immigrants to live free.
A flawed immigration system that allows immigration but grants limited rights to immigrants is, at its heart, an anti-immigrant system.
A system that is not "pro-immigrant" and that brings in more new immigrants will end up hurting America, Americans, and the new immigrants. That system may work great for a handful of employers and immigration lawyers (as is the case right now), but in the long run, such a system is doomed to fail because it defies the laws of nature.
To further clarify our stance on immigration and how it compares to other organizations working on immigration and employee rights here is a table that clarifies different positions. This table has been created based on our direct experience working with each of these groups and our observation of where these groups stand on the overall issues of skilled immigration. 
| Organization | Pro US-Workers | Pro Immigration | Pro Immigrant |
| --- | --- | --- | --- |
| Immigration Voice | ✅ | ✅ | ✅ |
| Immigration Lawyers | ❌ | ✅ | ❌ |
| Companies | ❌ | ✅ | ❌ |
| FWD.us | ❌ | ✅ | ❌ |
| Partners for New America | ❌ | ✅ | ❌ |
| NumbersUSA | ✅ | ❌ | ❌ |
| FAIR | ✅ | ❌ | ❌ |
| Labor Unions | ✅ | ❌ | ❌ |
| US Chamber of Commerce | ❌ | ✅ | ❌ |